Adults
The mission of the Adult ministry at St. Michael's is to help people grow and be transformed in their faith in Jesus Christ, to equip them for service through His Word and the Holy Spirit so that we have unity in the Body of Christ, to become a witness to those around us.

…to prepare God's people for God's works of service, so that the Body of Christ may be built up until we all reach unity in the faith and in the knowledge of the Son of God and become mature, attaining to the whole measure of the fullness of Christ. -Ephesians 4:12-14
Lutheran Singles Group (30s-40s)
Single? Looking for Christian fun and fellowship?The Lutheran Singles Group at St. Michael's has monthly events for singles in their mid-30's and 40's to meet new people with similar Christian values and to have a good time. We often do dinner events, drive-in movies, the Minnesota State Fair, the Science Museum, etc. We hope you can join us for an upcoming event!
Upcoming Events:

Dec 11

:

 Minnesota Zoo & Dinner in Apple Valley

Jan 6

:

 Dinner & Movie at MOA

Feb 4

:

 Super Bowl 

Sunday

 in Bloomington

Mar 17

:

 Easter Dinner in Chanhassen

Apr 21

:

 Minnesota History Center

May 19

:

 Outdoor Volleyball & Dinner at St. Michael's

May 26

:

 Drive-In Movie Night in Lake Elmo

Looking for more information? Contact John Strom: jstrom@olsentool.com, (952) 544-0985
Senior Saints
Adult Saints of all ages, join in the fun at our Senior Saints events: trips, potlucks, speakers, plays, musical events, social activities. Meet other St. Michael's members. Check the white binder on the church Welcome Desk for more event information and signup!
Upcoming Senior Saints Events
The Steve Marking Mixed Quartet Holiday Show (with us in December 2015) in the Fellowship Hall. Cost for the show is $10/person at the door. This event will follow St. Michael's annual 
11:30 a.m.
 advent devotional/soup lunch service that same day. Capture the Christmas spirit and celebrate the season by sitting back and enjoying this vocal and instrumental quartet in a repertoire of classic and sacred holiday music, plus a unique reading of the timeless Christmas poem, "The Night Before Christmas." Refreshments served during intermission. Open to the public. Invite your friends and neighbors.
2018, Sept 10-15:
Trip to The Ark Encounter and Creation Museum in Kentucky – This was the preferred
choice of the three trips offered in our recent pole. Details are being worked on and will be made available in
the coming weeks. This trip is not limited to St. Michael's members.
Women
2017 Women's Breakfast
Guest Speaker – Sarah Beckman
People want to care, but they don't always know how to express that care when someone they love is facing a hardship in their life.
Alongside
 is filled with practical ways to show your support – no matter the crisis.
In this keynote, Sarah illuminates key principles from her bestselling book, Alongside: A Practical Guide for Loving Your Neighbor in Their Time of Trial. You will discover who you are to help, and tangible ways to do so. You will also learn the biggest mistake people make, and the best way to combat it. This session is jam-packed with actionable content that EVERYONE can apply immediately.
$10/person
Sign up in the lobby starting 
October 1
.
Bring your friends!
LWML Fall Rally
Saturday, September 30, 2017
Holy Cross Lutheran Church
(Just off Cedar Ave. – left if coming from the south, right if coming from the north)
Registration
 and coffee at 
9:00 a.m.
Program
 starts at 
9:30 a.m.
Lunch will be served following the program
Speaker: Rev. Dr. John A. Mayer, Executive Director of City  Vision
Theme: The Great Commission in Reverse Acts 1:8 – Gifts from the Heart for City Vision – Cash – Gifts from the Heart for Bloomington, MN POBLO Mission:  Gift cards for gas or Walmart or Target; sewing supplies (thread, needles, scissors, pins, yarn, etc.) stationery supplies (such as notebooks, notepads, pencils, erasers, rulers, pens)
Tickets: $8.00 available at the Welcome Center
Deadline to purchase tickets is September 24, 2017. Questions? Call Sharon Viegas, (952) 944-7691.
Contact info: Barb Lapham
blapham@smlcb.org
(952) 230-2741
Stitchers and Quilters
Mission Quilters
God loves and comforts us daily in our troubles. Knowing this comfort, the Mission Quilters make and donate quilts to those who are in need of comfort in our community.  Quilts have been donated to Helping Hands, Center for the Victims of Torture, Ronald McDonald House, Comfort Ministry. For more information, please contact Barb Schaus,
Mission Stitchers
We use the gifts God has given us to embroider, knit, loom knit, crochet and sew. 
Our finished items are then donated as an outreach to the community where there is a need. 
Contact 
Marti Clark, (
952) 854-4653.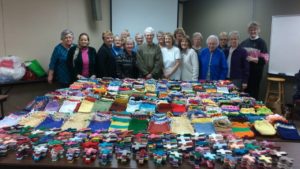 For a list of projects from 2016, click here.
Adult Bible Classes Fall 2017
Sundays, starting Sept 17th 9:30-10:30am:
"Luther's Catechism Study" – a 13 week study, (Sept.17- Dec.17) of the six chief parts in small groups. New spiral bound Catechisms $15, meets in Fellowship Hall. Choose what group you want to be in!
Pastor Pat's Bible study on Galatians (Sept. 17- Oct. 29) is the book that moved Martin Luther to challenge the teaching of the Catholic Church. This book became a "Charter of Freedom" for Luther as he fully realized freedom in Christ. Join us for seven weeks as we experience Christ's freedom more fully. Class meets downstairs.
"Is Genesis History?" – This 4 week study (Sept. 17- Oct. 8) will show highlights from the movie with Del Tacket interviewing scientists regarding creation and evolution. Meets downstairs. This class will also be repeated on Wednesdays (see below).
"The Treasure Principle"– In this new 4 week video series (Sept. 17- Oct.8) based on the best-selling book, The Treasure Principle, Randy Alcorn unearths a simple yet profound principle that will radically change your concept of stewardship. Meets in Office Conference Room upstairs.
Every Man A Warrior:  Sundays 6:30 PM – 8 PM, Room 8
Every Man A Warrior is a small group discipleship Bible study that "Helps Men Succeed in Life."  It addresses the battles that men fight every day and teaches men how to apply Biblical truths in the areas of: Walking with God, Money, Marriage, Raising Children, Sex, Work, Hard Times and How to Make Your Life Count.
Contact James Lueth (james.lueth2@gmail.com) with any questions.
Register online at https://every-man-a-warrior-smlc.mobilize.io/registrations/groups/15589.
Tuesdays
Women's evening Bible study 7:00-8:45pm, starting Sept.12 th will study "Hosea" by Jennifer Rothschild. Be amazed by this 7 week study (Sept.12 – Oct. 24) of the love of Hosea for his wayward spouse – and more amazed by the unfailing love of God for His wayward people, and for all people. Led by BettiJo Norman.
Wednesdays
Men's morning Bible Class 6:30-8:00am starting Sept.13 each week with continental breakfast, with an excellent study called,"Forgotten God, reversing our neglect of the Holy Spirit" by Francis Chan.
HUB 
Soul Supper 5:30-6:10pm Praise Time 6:15-6:20, Confirmation and adult classes 6:30-7:45pm.
HUB adult classes:
"The European Reformations" Taught by Pastor Randy Sherren, will meet for 10 sessions (Sept. 13 – Nov. 29) and will cover the 15-17th centuries of attempted reformations and how the Lutheran Reformation fits into a greater movement that is still shaping Christianity today. Meets downstairs in the Education Hall.
"Is Genesis History?" – This 4 week study (Sept. 20 – Oct. 11) will show highlights from the movie with Del Tacket interviewing scientists regarding creation and evolution. Meets downstairs.
"Financial Peace University" Oct.11- Dec.20) an excellent 9 week course with dvd talks by Dave Ramsey that will help you get your finances, savings, and spending in order.
Cost: $100 for the kit which includes a life-time membership to attend future classes for free! Please call, text or email Jim Anderson to register so we can order the kits before the class begins! 612-760-4820 or janderson@smlcb.org
Thursdays
"Life Light – Heaven and Hell" – begins Sept.14th – Nov. 9, 9:30-
11:00am a 9 week in-depth bible study on led by Kathy Wilson. Workbooks are available in the lobby. Cost $10 (pay at class).
Saturdays
Intergenerational Bible Study 8:00-9:30am
Pure Desire – Men's Bible study 9:00 – 10:30am
Contact Us
St. Michael's Lutheran Church
9201 Normandale Blvd
Bloomington, MN 55437
Phone: 952-831-5276
Email: office@smlcb.org
Hours
Building Hours
Mon-Thurs 8:30am-9pm
Office Hours
Mon-Thurs 8:30am-4pm
Service Times
Saturday
5:00pm Worship
Sunday
9:00am Worship
*See our Holiday Hours posted above.