Adults
The mission of the Adult ministry at St. Michael's is to help people grow and be transformed in their faith in Jesus Christ, to equip them for service through His Word and the Holy Spirit so that we have unity in the Body of Christ, to become a witness to those around us.

…to prepare God's people for God's works of service, so that the Body of Christ may be built up until we all reach unity in the faith and in the knowledge of the Son of God and become mature, attaining to the whole measure of the fullness of Christ. -Ephesians 4:12-14
Lutheran Singles Group (30s-40s)
Single? Looking for Christian fun and fellowship?The Lutheran Singles Group at St. Michael's has monthly events for singles in their mid-30's and 40's to meet new people with similar Christian values and to have a good time. We often do dinner events, drive-in movies, the Minnesota State Fair, the Science Museum, etc. We hope you can join us for an upcoming event!
Upcoming Events:

Feb 4

:

 Super Bowl 

Sunday

 in Bloomington

Mar 17

:

 Easter Dinner in Chanhassen

Apr 21

:

 Minnesota History Center

May 19

:

 Outdoor Volleyball & Dinner at St. Michael's

May 26

:

 Drive-In Movie Night in Lake Elmo

Looking for more information? Contact John Strom: jstrom@olsentool.com, (952) 544-0985
Senior Saints
Adult Saints of all ages, join in the fun at our Senior Saints events: trips, potlucks, speakers, plays, musical events, social activities. Meet other St. Michael's members. Check the white binder on the church Welcome Desk for more event information and signup!
Upcoming Senior Saints Events
Mar 15 (Thur) @ 9:00 a.m.: Tour St. Paul Landmark Center + String Trio Concert + lunch at The Liffey Irish Pub & Restaurant.  $20/person (incl. bus + Landmark Ctr. Tour + Shubert Club string trio concert).  Lunch at The Liffey is ON YOUR OWN. Sign-up & payment deadline Sunday, March 10th.
Apr 25 (Wed) @ 11:30 a.m.: Lunch & play "Guys & Dolls" at The Old Log Theater.  Rides from church leave at 11:00 am.  $50/person (incl. meal, play, tax & gratuity).  Choice of 4 meal entrees. Sign-up & payment deadline Sunday, March 25th.      
Sept 10-15 (Mon–Sat): Ark Encounter & Creation Museum Coach Trip
Hosted by the Senior Saints and open to all congregation members, family and friends!
This trip is offered through Medicine Lake Motor Coach Tours of Eden Prairie.  Cost per person in $960(double room) and $1,325(single room) and includes:
All day tour at the Creation Museum

All day tour at the Ark Encounter (largest timber-frame structure in the world and is a full scale model from the Genesis account)

12 meals included, 4 on your own

Tours at the Indianapolis Speedway

Tours at the Abraham Lincoln Library and Museum

A Riverboat dinner cruise in Newport
A down payment of $100 per person is due Friday, June 15th with final payment by Monday, July 15th.  We are planning on 40 people attending, so sign up soon!
https://creationmuseum.org/bible-history/noahs-ark/
Sign up, deposit information and details of each day of the trip are at the desk in the lobby in the Senior Saints notebook.  Q's?  Contact Dave or Jan Veith (952) 949-0175.
Women
Women of St. Michael's: We Want to Hear from You!
As some of you may know, our Christian Moms Fellowship (CMF) ended last spring. Since that time, we have not had a women's group at St. Michael's.
St. Michael's currently offers two women's Bible studies, an annual women's breakfast and an annual women's retreat; however, we would also like to refresh our women's group and what it has to offer to the congregation.
And we want to hear from you.
Please fill out this short two-minute survey to help us shape our new women's group at SMLC.
Save the Date: WOMENS RETREAT April 13-15, 2018 You don't want to miss it!!!
Contact info: Barb Lapham
blapham@smlcb.org
(952) 230-2741
Stitchers and Quilters
Mission Quilters
God loves and comforts us daily in our troubles. Knowing this comfort, the Mission Quilters make and donate quilts to those who are in need of comfort in our community.  Quilts have been donated to Helping Hands, Center for the Victims of Torture, Ronald McDonald House, Comfort Ministry. For more information, please contact Barb Schaus,
Mission Stitchers
We use the gifts God has given us to embroider, knit, loom knit, crochet and sew. 
Our finished items are then donated as an outreach to the community where there is a need. 
Contact 
Marti Clark, (
952) 854-4653.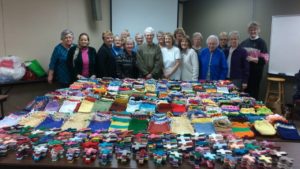 For a list of projects from 2016, click here.
Trail Life USA
Trail Life USA is a faith-based non-aligned Scouting organization that provides youth mentorship and character development to more than 26,000 boys in the United States.  St. Michaels is a charter member and continues to grow in membership.  For more information check out our charter website:  https://tl-mn-0619.trooptrack.com/
New Sunday Morning Classes starting January 14th 9:30-10:30 a.m.!
"World Religions: Islam & You"
This seven-week Bible study class will cover the basics, the teachings of the prophet of
Islam and evangelism attempts between Muslims and Christians of the second largest
religion in the world. It will also help you to understand the Islamic culture and how to
deliver the Gospel in such a cultural context. Meets downstairs and led by Nader Alaraj.
Note: This class repeats the same session on Wednesdays.
Nader & Georgette Alaraj are missionaries working for POBLO International, a Lutheran
Mission Society, among internationals in the Bloomington area and the Twin Cities in
"Life Keys – Discover Who You Are" is an eight-week multifaceted course designed
to help you uncover your talents, spiritual gifts, passions, values, priorities, personality
and all that God made you to be. This popular course will help you understand where
you fit best and how you can live more effectively. Workbooks $10. Led by Jim
"The Gospel of John" will continue led by Pastor Pat starting Jan. 7th.
Wednesdays
Men's morning Bible Class 6:30-8:00 a.m. Starting up Jan. 10, each week with continental breakfast and team-led Bible study on 1 Corinthians. Flexible for men who need to leave earlier than 8:00 for work. Led by Ted Hinck and Mark McLain.
Wednesday HUB nights include Soul Supper served from 5:30–6:10 p.m.
"Life Keys – Discover who you are" starts Feb. 7th. Led by Jim Anderson.
"Islam & You" – repeats Sunday's sessions Jan. 17, 24, 31, Feb. 7, 21, 28, Mar. 7. Thursdays
Saturdays
Intergenerational Bible Study, 8:00–9:30 a.m. Pure Desire – Men's Bible study, 9:00–10:30 a.m.
Contact Us
St. Michael's Lutheran Church
9201 Normandale Blvd
Bloomington, MN 55437
Phone: 952-831-5276
Email: office@smlcb.org
Hours
Building Hours
Mon-Thurs 8:30am-9pm
Office Hours
Mon-Thurs 8:30am-4pm
Service Times
8:15 and 10:45 a.m.
Sunday
, with education at 
9:30 a.m.