Adults
The mission of the Adult ministry at St. Michael's is to help people grow and be transformed in their faith in Jesus Christ, to equip them for service through His Word and the Holy Spirit so that we have unity in the Body of Christ, to become a witness to those around us.

…to prepare God's people for God's works of service, so that the Body of Christ may be built up until we all reach unity in the faith and in the knowledge of the Son of God and become mature, attaining to the whole measure of the fullness of Christ. -Ephesians 4:12-14

Fall 2020 Adult Classes and Workshops

Sundays: Pastor's 10:45 am class on "Two Realms – living in two kingdoms" in-house and zoom class. Meets downstairs Aug. 30– Oct. 25. What does it mean to be a citizen of heaven and also to live responsibly in our world? What role do politics and civics play in our calling from Christ? Join this in depth study each Sunday to learn more. We will cover Christian history, Biblical worldview, Christ and Culture, and Luther's insight on the Two Realms. This class is also videotaped; prior classes can be viewed online. Call the office for details.

Tuesdays: Women's Evening Bible Study, 6:45 to 8 pm. "Trustworthy" is a 6-session study of 1 & 2 Kings. Join Lysa Terkeurst in Israel as she honestly reveals the places of distrust in her own heart while exploring the deeply personal applicable Scriptures that will teach us how to truly trust God. Meets at church with social distancing. Led by Michelle Haux. Questions? Call Michelle at 218-790-2779.

Wednesdays: Men's Bible Study 6:30-8:00 am – in-house and zoom class. In-house: option to leave earlier if needed for work; and you are welcome to bring your own breakfast.

Pastor Randy Sherren's class  "Why Four Gospels, Why Are There Four Gospels At All?" began the week of Sept. 14. Classes are available on our website, each week, anytime on-demand (new classes are posted no later than 6:30 pm Wednesdays.) No in-house meeting. Imagine if your life were to be written by four different people to four different audiences from four different perspectives with four different angles on your life. We don't have four copies of THE gospel we have four distinct gospels with each more interesting and distinctive than is typically thought. Come see why. Powerpoint slide hard copies are available in the entryway.

Thursdays: 9:30-11:00 am – Life Light Genesis study, in-house and zoom starting Sept. 17 led by Kathy Wilson. If interested in joining this study whether in-house or zoom call her ph# 952-200-3670.  Study guides can be picked up beginning of Sept. at the welcome desk with sign up.

Saturdays: Pure Desire meets 9-11 am at church.

Various Days/Times: New Zoom small groups started the week of Sept. 14 for 6 weeks on "Jesus' Most Popular Parables." These groups are led by St. Michael's members and have 6-8 people.

Fall Workshops! 

These are open to all, both in-person at church (masks and social distancing will apply) and online via zoom. Email Jim Anderson to sign up. janderson@smlcb.org

Sat. Oct. 17 – 9:00-10:30 am "Hard Questions, Gospel Answers – an Intro to Apologetics" led by Pastor Ryan.

When it comes to defending the faith, we are often either warriors looking to "win" an argument, or we'd rather not talk at all. How can we have confidence to respond honestly and lovingly, so that we can open a door to faith for a friend?

No matter your age or experience, we have all been faced with hard questions about the Christian Faith. Most often these questions come from within, but we can also feel hostility from others, and become nervous or fearful about sharing our faith. This workshop will provide an overview to the purpose of apologetics (defense of the faith), in addition to digging into some hard questions together and seeing where God's Word and Spirit can lead us.

Sat. Nov. 21 – 9:00-10:30 am "Leaving a Spiritual Legacy of Godly Grandparenting" led by Jim Anderson – more details coming soon.

Mark these dates and check it out!  Contact Jim Anderson at janderson@smlcb.org to sign up.
Hidden
Generation X Events Group
Looking for fellowship with others in their 40s and 50s? The Generation X Events Group at St. Michael's has monthly events for marrieds and singles. We often do dinner events, drive-in movies, the Minnesota State Fair, the Science Museum, etc. We hope you can join us for an upcoming event!
Upcoming Events:
November 14th– Colonial Thanksgiving Cooking Night & Red Sea Miracle Video #1
December 31st– Middle Ages and Renaissance Cooking Night & Red Sea Miracle Video #2
January – Roman Empire Cooking Night
(952) 544-0985.
Senior Saints
Adult Saints of all ages, join in the fun at our Senior Saints events: trips, potlucks, speakers, plays, musical events, social activities. Meet other St. Michael's members. Check the white binder on the church Welcome Desk for more event information and signup!
Upcoming Senior Saints Events:
TBA
Women

Women Together
Women Together is about creating opportunities for women to support, encourage and serve in Christ.  Women Together showcases events throughout the year to cultivate new connections, new friendships or support and equip long-time friends in their faith. Various events consist of Small Group Bible Studies, Women's Breakfast, Women's Retreat and other topical events to grow in faith and serve others.
Stitchers and Quilters
Mission Quilters
God loves and comforts us daily in our troubles. Knowing this comfort, the Mission Quilters make and donate quilts to those who are in need of comfort in our community.  Quilts have been donated to Helping Hands, Center for the Victims of Torture, Ronald McDonald House, Comfort Ministry. For more information, please contact Barb Schaus,
Mission Stitchers
We use the gifts God has given us to embroider, knit, loom knit, crochet and sew. 
Our finished items are then donated as an outreach to the community where there is a need. 
Contact 
Marti Clark, (
952) 854-4653.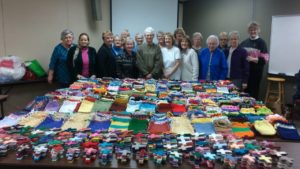 For a list of projects from 2016, click here.
St. Michael's offers classes and Bible studies for men, women, and mixed. Classes/studies include women's small groups (various days), men's Wednesday morning Bible class, a new member class, and much more. 
Welcoming and Loving Our Neighbors in Response to God's Love
Service Times
Livestream:
Indoors:
Thursdays, 7 pm and Sundays, 9 am