Preschool (3-4 year olds)
St. Michael's is an exceptional, Christ-centered, award-winning preschool and ministry of St. Michael's Lutheran Church that is open to families in the Twin Cities area. We invite you and your child to consider St. Michael's as your next "home away from home!"

Considering options for fall 2023? Join us at our annual winter Open House – Saturday, January 21, 2023, from 10 to noon! Community-wide registration for fall opens that day.

Our mission is to create a loving Christian environment in which the children can develop to their fullest potential:  including spiritual, physical, emotional, social and cognitive growth in their young lives.

Train up a child in the way he should go; and when he is old, he will not depart from it. -Proverbs 22:6
The objective of St. Michael's Preschool is to provide each child a safe, loving and positive environment where faith is naturally integrated into the curriculum.
What Your Child Will Experience at St. Michael's
Creative Learning:  Arts and crafts, science center, author-of-the-month, reading nooks, singing and dancing, writing journals, sensory tables, and much more.
Safe, Loving Environment: Spacious, secure, naturally lit classroom; State of MN licensure; app-based parent communication; caring and experienced teachers; and family involvement opportunities.
Faith Focus: Daily Bible stories, chapel times, praise songs, and an environment grounded in Christian values. We aim to make sure your children are learning about the most important thing: the love of Jesus.
Active Play: Dramatic play, gym time, outdoor playground, annual bike week, field trips, and more.
Kindergarten Readiness: Proven, purposeful, age-appropriate curriculum with bi-annual assessments and parent-teacher conferences.
Ready to Learn More?
We still have openings this year (2022-2023.) If you have a current 3- or 4-year old and would like to explore enrolling them in our preschool, contact Preschool Director Kristi Lueth at psdirector@smlcb.org

.

If you are considering St. Michael's Preschool for your child for the 2023-2024 school year, mark your calendar for our Open House on Saturday, January 21, 2023 from 10 am to noon! Community-wide registration for Fall 2023 opens that day.
Don't hesitate to call or email with your questions! Kristi Lueth can be reached at psdirector@smlcb.org or 952-230-2025.
Class Options
For children who are 3 on or before Aug. 31 and are toilet-trained:
Tuesday/Thursday – 9:00 – 11:30 am
For children who are 4 on or before Aug. 31:
Monday/Wednesday/Friday –  9:00 – 11:30 am
Monday/Wednesday/Friday Afternoon Enrichment – 12:15 – 2:45 pm
4-year-olds have the option of staying for an extended day of focused enrichment activities on Mondays, Wednesdays, and/or Fridays. Students bring a lunch from home for Lunch Bunch (11:30 to 12:15.) Students can choose to stay for one, two, or three afternoons for the year.  View afternoon enrichment description/options
Classes are in session Sept-May.
Docs/Forms for New Families:
2022-2023 Class Options and Fees
2022-2023 Preschool Application Form rev 4.2022
2023-2024 Class Options and Fees
2023-2024 Preschool Application Form
Docs/Forms for Registered Families:
SMLP Parent Handbook rev 4.2022
Immunization Record Form
Health Care Summary
Questionnaire
Emergency Preparedness Plan
Maltreatment of Minors Mandated Reporting
COVID guidance SMLC Preschool 2022.7.1
Preschool Calendar 2022-2023, Oct update
St. Michael's Preschool admits students of any race, color, national, ethnic origin to all the rights, privileges, programs, and activities generally accorded or made available to students at the school. It does not discriminate on the basis of race, color, national and ethnic origin in administration of its educational policies, admissions policies, scholarship programs and other school-administered programs.  

Contact for More Information
Contact Kristi Lueth, Preschool Director, for further information.
psdirector@smlcb.org
(952) 230-2025
Visit St. Michael's Preschool on Facebook!

"Our family has had a great experience with St. Michael's Preschool! Our kids have truly blossomed there as they've gotten used to being away from home and gained confidence with their peers. The teachers are passionate and knowledgeable, and the environment is so loving. We look forward to sending our youngest in the fall!"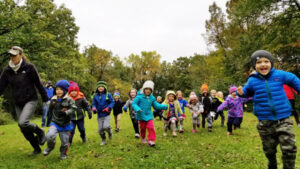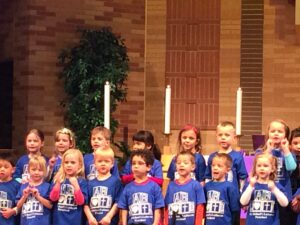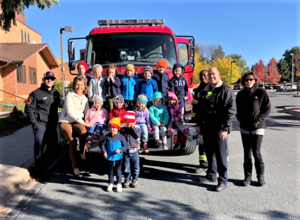 We have been very blessed to have our 8 children attend St. Michael's Pre-K. It has prepared all of them well for kindergarten socially and academically, but above all, the teachers made the difference! They have really become like a family to us, encouraging and loving our kids, and sharing their faith with them. It has truly been a gift for our family!